List of Best Payment Gateway in India
Do you find confused in finding a best payment gateway which works out for you to process the payments? There are numerous payment gateway providers are available in India which you can make use of and that can provide you immense variety of services.
Since there are many such payment gateway providing companies are available, you may find difficulty in choosing a best one. Therefore an overall idea about the payment gateways are really necessary for you to have in order to picks a good one.
Before moving on to the different available payment gateways, let's have a analysis about what the payment gateways are and how it works!  In order to choose the best payment gateway in India; you may need to have awareness about the different payment gateways which are available.
List of Online Payment Gateway Service Providers in India 2017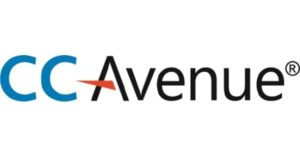 CC Avenue is one of the widely used payment gateway. It is really a big payment gateway which has been used by lots of eCommerce stores. They are very popular that there are lots of payment options are available including ATM cards, EMI's, IMPS etc. You would be really amazed to see the numerous services it provides like multiple currency options and customization. You can freely integrate this payment gateway to your website.
Setup Fee – Free
Annual Maintenance Fee – Rs. 1200
Transaction Fee – 1.99% + Rs. 3
Settlement Days – Weekly
Top Clients – Make may trip, Yatra online Pvt.Ltd, AirAsia, Snapdeal.com, Myntra.com
CC Avenue Website URL – https://www.ccavenue.com/
Customer Support Number –  022 67425555, 022 66920419
Documents Required for CCAVENUE Payment Gateway – Photo Proof (Signing Authority ), Office Address Proof, Additional Documents, Cancelled Cheque, Financial Proof


PayUMoney / PayUBIZ is a trusted payment gateway service which has got lots of popular clients like Goibibo, BookMyShow etc. These provide customized services which makes it special. The transaction fee is also very low compared with other payment gateways It support multiple payment modes and has got different types of packages which are gold, silver, economy etc where the users can choose the interested ones.
Setup Fee – Free (PayUMoney), Rs. 4900 to Rs. 19900 (PayUBiz,)
Annual Maintenance Fee – Free (PayUMoney), Rs. 2400 (PayUBiz)
Transaction Fee – 2% (PayUMoney),  2.25-2.95% for Credit/Net Banking, 0.75%-1% for Debit Card (PayUBiz)
Customer Support Number – 0124-6624801
Settlement Days – Transaction Date + 2 Days
Top Clients – Jabong, BookMyShow, Freecharge, Zomato, Goibibo, Olx, Ola, ShopClues, Pepperfry
PayUMoney / PayUBiz Website URL – https://www.payubiz.in/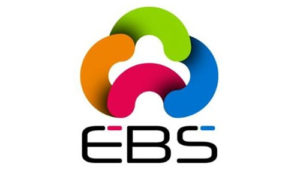 EBS payment service is owned by popular Ingenico group. It has a set up cost of 11,999. It is slightly costly compared to other payment gateway services. There are numerous plans you have with this payment gateway that you can choose easily. Compared to other payment gateway India, the transaction fees are also higher.
Setup Fee –  Free & Premium Plan Available
Annual Maintenance Fee – Rs.2400
Transaction Fee – From 2%  to 3% based on the plan
Customer Support Number -+91 80 80 807401
Settlement Days -Transaction Day + 12 Days
Top Clients – BabyOye, Snapdeal, FirstCry
EBS Website URL – https://www.ebs.in/IPS/

PayTM is very safest payment gateway system. This has been used by millions of users. All kinds of business can choose this payment gateway a sit provide lost of payment systems like credit cards, debit cards and mobile banking very easily. This is a flexible kind of payment service that the users can have a wonderful ay of transaction. This is one of the widely used payment gateway system. Easy and quick.
Setup Fee -Free
Annual Maintenance Fee -Free
Transaction Fee – 1.99%

Settlement Days –Transaction Day + 2 Days

PayTm Website URL – https://paytm.com/

Instamojo is a great payment gateway service which has got good features. This is slightly different from other payment modes where it uses links for transactions. A link would be send to the customer where the customer can provide all the account details and it would be directly send back to payment gateway without even touching the website. There is no set up charges with this.
Setup Fee –  Zero
Annual Maintenance Fee – Zero
Transaction Fee – 2% + Rs.3
Settlement Days – 3 Business Days
Top Clients – Snapdeal's app Shopo, Online Prasad, UrbanClap, YourStory, Next Big What and others.
Instamojo Website URL – https://www.instamojo.com/
Customer Support Number – +918880110011

PayPal is one of the widely used Payment gateway services where it supports lots of international customers. Paypal has got millions of transactions taking place each day that makes it a growing payment gateway. It supports multiple currencies and the conversion rates. Through Paypal you can even upload the cheques through your phone and do the payments very easily.
Setup Fee – Free
Annual Maintenance Fee – Free
Transaction Fee – 2.90% + $0.30
Settlement Days – 2-4 Business Days
PayPal Website URL –https://www.paypal.com/in/home
Customer Support Number – 1800 212 3852

DirecPay is secured, safest, reliable and trustful kind of payment gateway service. It is very easy to integrate this to your eCommerce business and so it has been preferred by many users. You can easily register into this and make use of the EMI facility which is provided by them. Normally it takes up to five days for the activation of direcpay. It gets activated after the verification process are completed.
Setup Fee – Free
Annual Maintenance Fee – Free
Transaction Fee – 2-3%
Settlement Days – T+2

DirecPay Website URL – http://www.direcpay.com/direcpay/home.jsp
Customer Support Number – +91 9619712858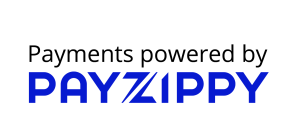 PAYZIPPY was the payment gateway of the popular ecommerce group flipkart. It has numerous other popular clients also. There are no charges to set up this gateway and they do not include any kind of maintenance charges. The transaction fees may vary. Currently this payment gateway is not accepting any new clients but you can just have a look onto their site to understand their status.
Setup Fee – FREE
Annual Maintenance Fee -FREE
Transaction Fee – 0.75% for less than Rs 2000 / 1% for transactions exceeding Rs 2000.
Settlement Days – T+2
Top Clients – Flipkart
PayZippy Website URL –https://www.payzippy.com/

ZAAKPAY is a payment gateway which is very compatible with any devices including android and IOS mobile phones. This is mostly preferred by the start up business who is not interested in spending a lot of money for the payment gateways there is no set up costs associated with this but may have a small maintenance annually.
Setup Fee – FREE & Premium Plan Available
Annual Maintenance Fee – FREE
Transaction Fee – 1.90% for National & 2.90% for International Debit & Credit Card
Settlement Days – 2 Days
ZaakPay Website URL – https://www.zaakpay.com/
Customer Support Number –  +91-9599221289
Payment Gateway Price Comparison India 2017: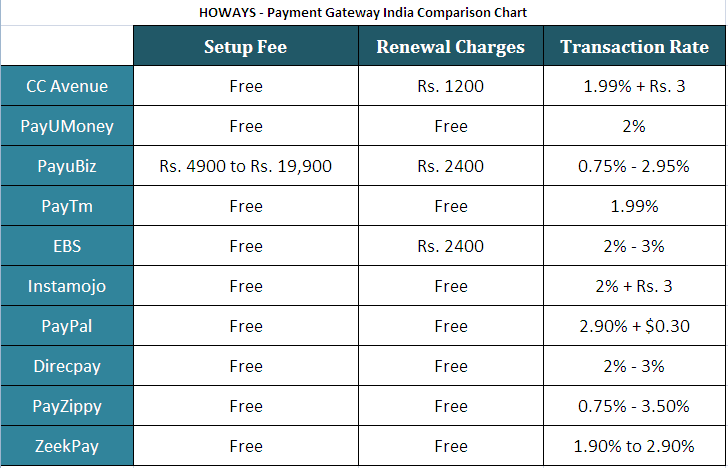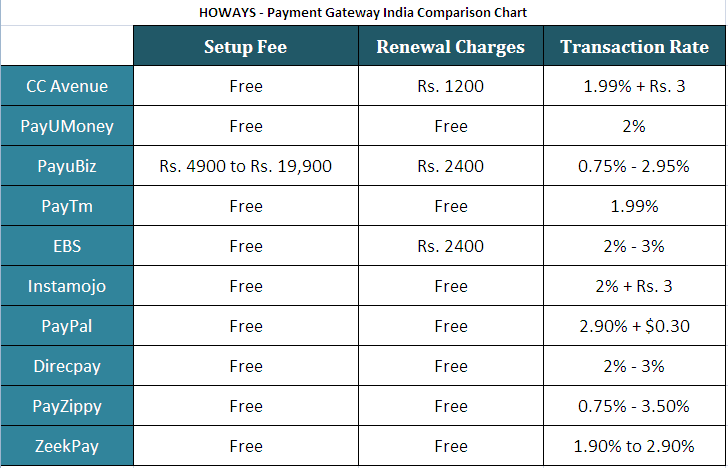 Other details about the Payment Gateway:
What is payment gateway?
In simple terms, Payment gateways are the services which facilitate the online transactions. It can accept the electronic payments in the form of debit cards, credit cards, and online banking. Since the commerce has been flourished so extensively, the uses of payment gateways are really enormous!
If you have made an online purchase in a website, then you may have done the online payment entering your card details. You see that your payment gets done and the order get confirmed.  It is through this medium your payments are getting done and the merchant gets the money.
How does the payment gateway works?
It acts as a medium between the buyer and a seller where the payment gateways can easily accept money from the buyer and can transfer the money to the seller account. There may be a transaction fee which would be charged and the rest of money will be transferred to the merchant's bank account.
The credit card information passed to the merchant's website would be in an encrypted form keeping it confidential. This information is then passed to the payment gateways. It is the payment gateway who verifies the account details of the customer and processes the payments. All these takes very little time but there are lots of things are happening behind.
What you need to consider while choosing Payment Gateway for eCommerce website India?
Try to choose the payment gateway for eCommerce website / service website which satisfies all the below factors. Make your internet transactions awesome by picking out the best eCommerce payment gateway. Whenever you are about to choose an online merchant gateway, making sure you are considering the following factors:
Check the payment gateway you opt support all kinds of online transactions including credit and debit cards, e wallets, mobile banking etc
Ensure the payment gateway has got good rating and reviews that the experiences using them are really great for other users
Check out the payment gateway is secure, reliable and the one which is trustworthy
Ensure the payment gateway you opt can be easily integrated on to the website
Make sure it is flexible and user friendly
Go for the payment gateways which are affordable to you
Superior User Experience
Basic List of Documents Required for Payment Gateway India?
Photo Proof – PAN Card / Passport / Driving License / Election Card
Office Address Proof – Electrical Bill, Rent Agreement, Bank Statement or Passbook
Additional Documents – GST Registration Copy
Cancelled Cheque – For the bank account into which you will be receiving payment.
Payment Gateway Integration Services Provider
During the designing & development of your website / eCommerce website, you developer will integrate the payment gateway free of cost. Also, most merchant payment gateway providers provide the documentation to integrate their gateway on your eCommerce / business websites in very easy steps. They also provide plugins / extension for the known platforms, you just need to install and use it.
If nothing works, contact us, being a reputed payment gateway integration company in Delhi, India, HOWAYS has become a reliable partner for shopping & service website's owners and customers.